PAPER PARTY'S 3 TIMES A YEAR
Do you love getting new paper to create beautiful projects with?
Does that paper then sit for a long time on your shelf because you don't want to use it up or maybe you just aren't sure what to do with it?
Guess what!?
We are having a PARTY!  That's right.  Three times a year with the release of each new catalog we party in our PJ's and we make beautiful cards with our brand new paper!
Get your paper share and then PARTY WITH ME & some friends!
Sign up below at the NEVER MISS A PAPER PARTY to get on the email list with paper party information.
WHAT YOU GET:
1/4 of a pack of every designer series and specialty designer series paper in the new catalog (12 different papers)
A card kit for each pack of designer series paper
Access to the Facebook Group for the live events
Entry into 2 door prize drawings & all attendee giveaway
Event: September 11th (live event, all recorded so you can watch anytime)
An invoice will be sent and payment is due by August 2nd
Shipping included in all fees listed below
Your party packet will be shipped September 1st.  We are not responsible for any delays by the postal service.
PARTY ADMISSION
$75.00 - PJ PAPER PARTY (KITS, PAPER, VIDEOS, PDFTS & PARTY)
$91.00 - PJ PARTY & Christmas Means More Stamp Set
$122.00 - PJ PARTY & Celebration Tidings Bundle
$127 - PJ PARTY & Have A Hoot Bundle
$199 - GET IT ALL & ADDED GIFT (PJ PARTY, AND BOTH BUNDLES AND STAMP SET)
$54.00 - JUST THE PAPER, no kits, no PDFS, no stamp sets
Shipping included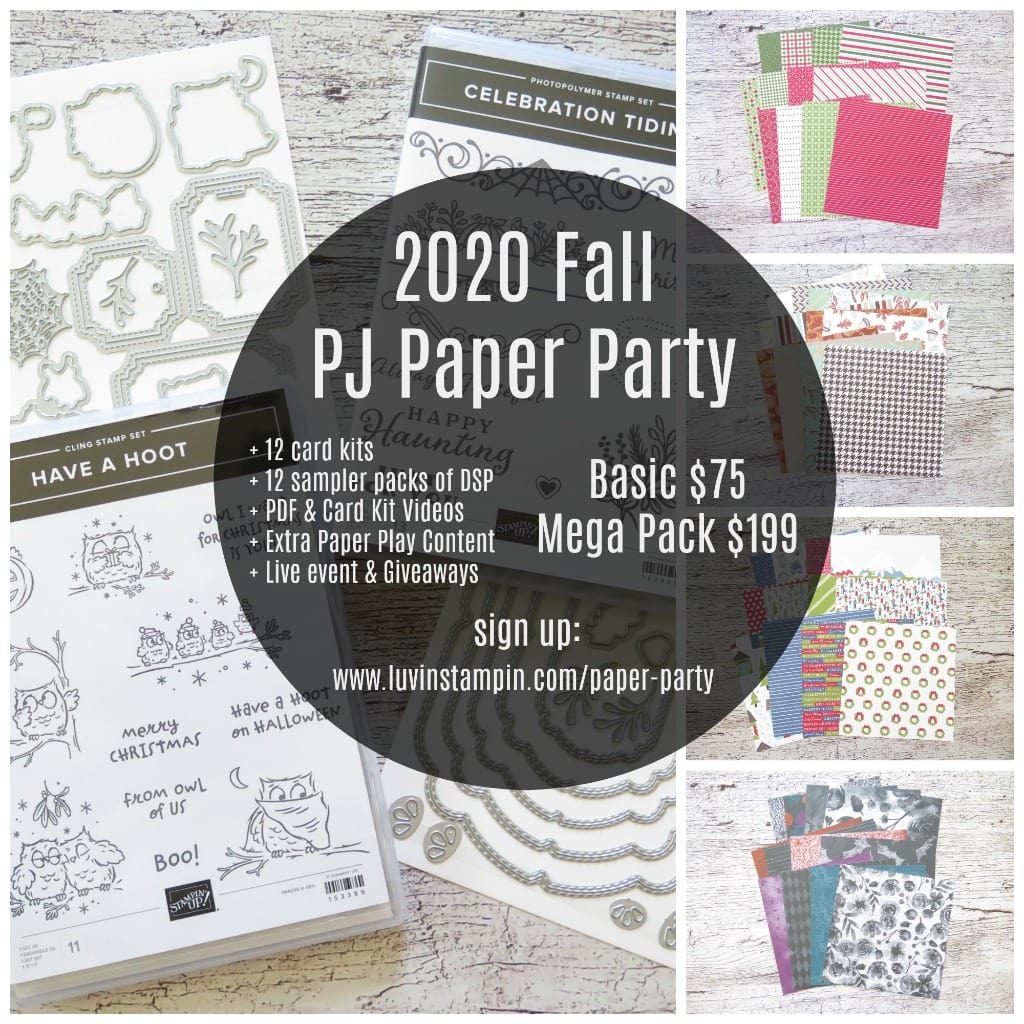 What Other People Are Saying About The Party's
"This was my first ever paper share/paper party. I was amazed at all the thought and effort that went into our packets."
"Love it. Can't wait for the Occasions Paper Party! I had so much fun."
"It's such an amazing value for your money! The kits help me think outside the box. With only 2 bundles, we created unique cards using the dsp from each suite."
"This was a lot of fun. So many ideas and ways to USE the paper! Better than having it sit on a shelf. Thank you for all the work and planning. I will definitely do this again!"
"Having this as a paper party was worth the cost. Your paper shares were very competitive and reasonable."
+ A Card Kit For Each Pack of Designer Series Paper

+ A 6 x 6 Sampler Pack of Each Designer Series Paper (card kits included for each)

+ Optional Bundle and/or Stamp Set Add Ons (save tax & shipping)

+ Exclusive Facebook Group for Live Event

+ Printable PDF Emailed To You (we'll print it for you for $5.00)

+ Exclusive Card Sketches

+ Giveaways Throughout The Event

+ Pre Recorded Videos with Instructions On How To Make Cards